A restorative equine therapy program for girls and young women aged 12-24yo
Perfect for young women and girls who are are struggling with self-worth, and self-confidence.
Having a strong inner-critic leads to unhelpful behaviour and thought patterns. This program teaches participants an alternative way to view, and respond to, life's challenges.
Throughout the program, the themes of Gratitude, Optimism, Resilience, Empathy, Mindfulness, Awareness, Responsibility, Kindness, Acceptance, Boundaries & Bravery, Liberty and Empowerment are explored.
The program consists of twelve, private, weekly appointments.
About your facilitator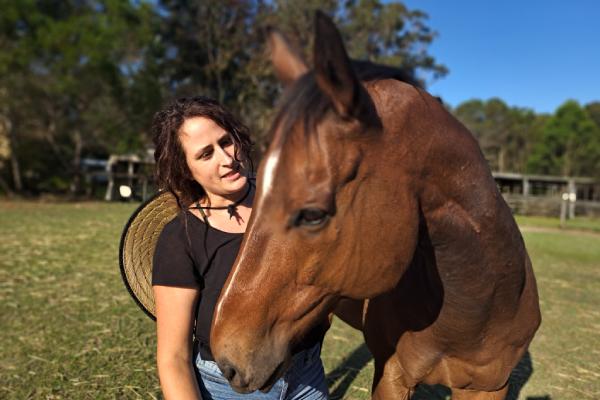 Marie is a certified Equine Psychotherapy Institute Practitioner.
We have a unique approach to program delivery. Every program facilitator has a lived experience similar to that of the program participants. Marie dealt with feelings of unworthiness into her late 20's and felt she lacked the tools to express herself. When she realised what a transformative experience the way of horses proved to be in improving her mental health, she became passionate about sharing it with others. She studied with the Equine Psychotherapy Institute and joined our program team. Marie now uses her empathetic and caring nature to guide other women and girls on their healing journey.
In addition to the shared experiences between participant and facilitator, the horses in our herd have also experienced trauma.
Cost and suitability
Cost is never a barrier at the sanctuary. We work extremely hard to obtain grant funding to subsidise the cost of programs for our clients. For those who can afford to pay, the subsidised cost is currently $80 per session on weekdays, $100 per session on Saturdays and $120 per session on Sundays. Sessions lengths vary but are usually 1 – 1.5 hours.
We have full and part scholarships available for clients experiencing financial difficulty. This is an honesty-based system and no evidence of hardship is required.
In terms of fitness or physical health, the only requirement is that participants need to be nimble enough to hop out of the way if a horse moves suddenly.
NDIS Notes:
We are not a registered NDIS provider and so cannot accept NDIA-managed plans, however we can accept self-managed and plan-managed NDIS packages.
Please make sure that funding is available under the Innovative Community Participation line item.
The program is not suitable for NDIS clients requiring therapeutic care, supervision or support from a carer.
---
this program Made possible thanks to