A restorative equine-assisted personal development program for women
Your program will be fully tailored for you and your specific needs. We will work at your pace and your comfort levels. Working alongside our beautiful rescue horses, you will embark on a series of groundwork activities specifically designed to align with the seven key themes of: calmness, awareness, boundaries, thinking, feeling, relationships and facing life's challenges.
Programs typically run for 12 weeks and are scheduled for a time and on a day that suits both you and your program facilitator.
All sessions are private sessions – group sessions/programs are not available.
About your facilitator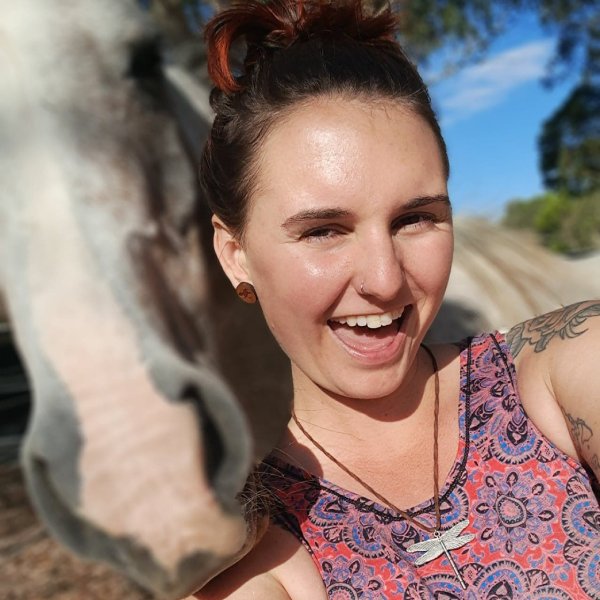 Olivia is a certified Equine Psychotherapy Institute Practitioner.
We have a unique approach to program delivery. Every program facilitator has a lived experience similar to that of the program participants. As a Navy Veteran feeling consumed by service-related PTSD, anxiety and depression, Olivia started volunteering at the sanctuary in early 2020. She realised that the time she spent at the sanctuary was resulting in profound changes in how she felt. She became passionate about facilitating that change for other people – committing to studying with the Equine Psychotherapy Institute and joining our program team – and has never looked back.
In addition to the shared experiences between participant and facilitator, the horses in our herd have also experienced trauma.
Cost and suitability
Cost is never a barrier at the sanctuary. We work extremely hard to obtain grant funding to subsidise the cost of programs for our clients. For those who can afford to pay, the subsidised cost is currently $80 per session on weekdays, $100 per session on Saturdays and $120 per session on Sundays. Sessions lengths vary but are usually 1 – 1.5 hours.
We have full and part scholarships available for clients experiencing financial difficulty. This is an honesty-based system and no evidence of hardship is required.
In terms of fitness or physical health, the only requirement is that participants need to be nimble enough to hop out of the way if a horse moves suddenly.
NDIS Notes:
We are not a registered NDIS provider and so cannot accept NDIA-managed plans, however we can accept self-managed and plan-managed NDIS packages.
Please make sure that funding is available under the Innovative Community Participation line item.
The program is not suitable for NDIS clients requiring therapeutic care, supervision or support from a carer.
---
Made possible thanks to funding from