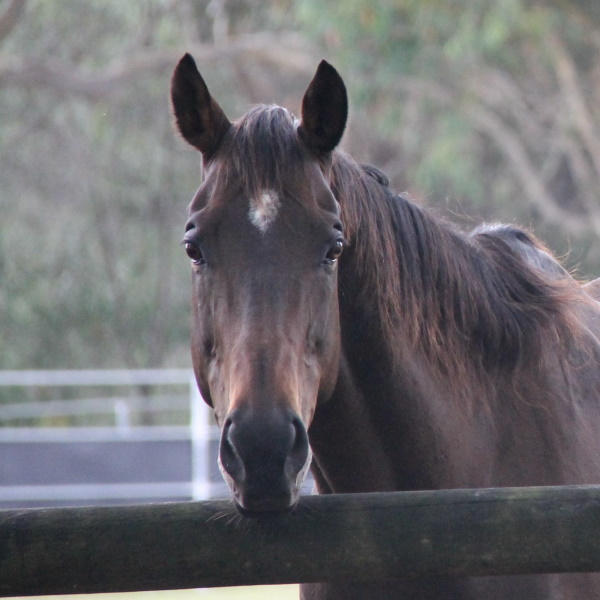 BORN: 26 September 2004
BREED: Thoroughbred
HEIGHT: 17hh+
GENDER: Mare
COLOUR: Seal Brown
ARRIVED: May 2019 – via RSPCA
STRESS RESPONSE: Flight
PAIR BOND: Mack
LIKES: Treats, spending time with Mack, children, being hosed on a hot day
DISLIKES: Windy days, being stabled, the measuring stick
PERSONALITY
Born in 2004, Cappy is a genuinely lovely Thoroughbred. She is the most stunning colour and so very gentle – at over 17 hands high, she's affectionately called our Gentle Giant and is a favourite with everyone. She is a bonded pair with the gorgeous Mack and they are never more than a few metres apart. It's so lovely to watch them together.
HISTORY
Cappy was born to race but had zero starts and was sold as a 4yo brood mare for $87,500. She had 5 foals over the next 5 years and was then retired. In 2017 the stables relocated to ACT and gave her to a local family on a free lease. They put Cappy on her own in a large paddock somewhere west of the Gold Coast and just left her there. As the drought conditions worsened there was nothing for her to eat. She received no medical care or feet trimming. In 2019 she was reported to the RSPCA. She was totally emaciated and her feet were in terrible shape. How a horse that was once considered so valuable can end up in that state is impossible to understand.
HEALTH ISSUES
Given her original state, Cappy is doing remarkably well. As a result of serious starvation, she has ongoing gut health issues. Her body ate all her fat stores and much of her muscle tissue. As a result, she has some ongoing hind-end instability.
Cappy still needs very careful care. Her feet are now closer to the shape they should be but she is still prone to hoof abscesses – especially in the wet season when her hooves are soft.
Throughout 2020 and 2021, Cappy had several bouts of colic requiring hospitalisation. She was trialled on a hay-free diet for almost six months and this allowed her gut to slowly heal. Once hay was slowly introduced back into her diet, she tolerated it really well and the colic episodes thankfully stopped. It is not unusual for horses that have been starved to have difficulty in regaining normal gut function.