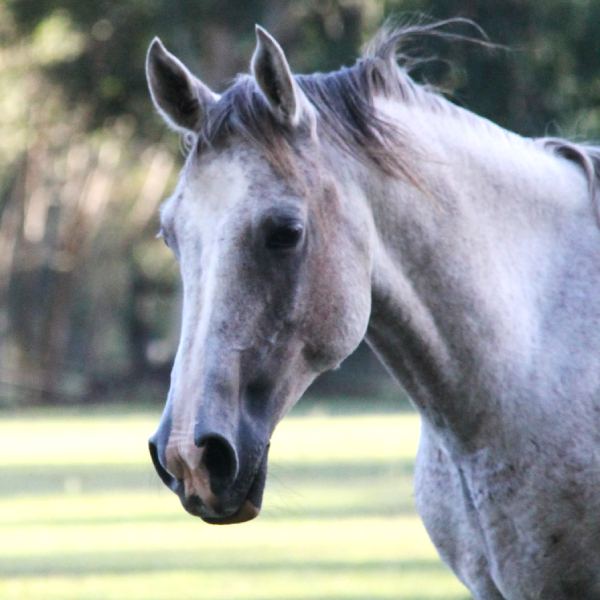 BORN: 14 July 2014
BREED: Crabbet Arabian
HEIGHT: 14.2hh
GENDER: Gelding
COLOUR: Grey
ARRIVED: November 2018 – via the RSPCA
STRESS RESPONSE: Fight and flight
PAIR BOND: None
LIKES: Human company, clicker training, crazy hooning with the herd
DISLIKES: Injections and being hosed
PERSONALITY
Kazu is a very sweet purebred Crabbet Arabian who just loves to be around humans. He is always the first horse to greet new clients and always wants to work alongside them.
HISTORY
The person who bred Kazu fell ill and couldn't look after his horses properly. Unfortunately, Kazu's mother died when he was just a few months old and Kazu was left with his brother, unattended and unhandled, in a paddock with very little feed. A neighbour became concerned for their welfare and sought help from the RSPCA. The owner agreed to surrender Kazu to the sanctuary and he joined us in 2018 as a 4yo stallion untouched by humans. He became our very first rescue and his name means 'the first' in Japanese.
Kazu slowly started to learn to trust people and then realised that humans were actually quite nice to be around! He learned to really love spending time with people and to have great snooze sessions during our Trust Technique sessions. Kazu didn't get to grow up in a herd environment and so he is lacking some 'herd manners' (that's a nice way of saying that he can be very annoying to the other horses!). Because of this, he doesn't have a best friend in the herd so he really looks forward to spending time with the humans and getting lots of attention from them instead.
HEALTH ISSUES
Kazu arrived covered in hundreds of cattle ticks and still has scarring from the ticks today. He also had a tummy full of worms and terrible feet – having never had his feet trimmed, worming treatments, dental care or vaccinations. He also had some health issues associated with not getting the required nutrition in those first few formative years. We had a lot of work ahead of us to bring this gorgeous boy back to full health.
We were all devastated in September 2019 when Kazu slipped on wet ground as he cantered around a tree in the paddock. He lost his footing, fell heavily onto his shoulder and broke it. If the fracture had been just 1mm longer, it would have been right through the joint – an injury that would not have been survivable.
We were really worried about how he would manage being confined in a stable for his recovery period (a minimum of 12 weeks) given that he had never been confined before, but he was an absolute superstar! We made his stable bigger and bigger as his healing progressed, gave him lots of enrichment toys and tree branches to chew on, created a shelter right next door to his stable where we hung hay nets to encourage the other horses to hang around to keep him company. We needn't have worried – the other herd members all too turns to keep him company right through his rehabilitation.
Despite a very guarded prognosis, Kazu made an incredible recovery and was given the all clear in March 2020. We had planned on gently introducing Kazu to a rider early in 2020 but we gave him a little more time to re-build the muscle mass he lost when confined to the stable and he finally started training in May.
We use very gentle, positive re-reinforcement training methods and bitless bridles at the sanctuary and Kazu took to his training like a pro! He is such a smart little man and loves to learn. Our wonderful Volunteer, Mia, did a super job and when she sat on Kazu for the first time, he didn't bat an eyelid. He has come so far and is so loved by everyone at the sanctuary.