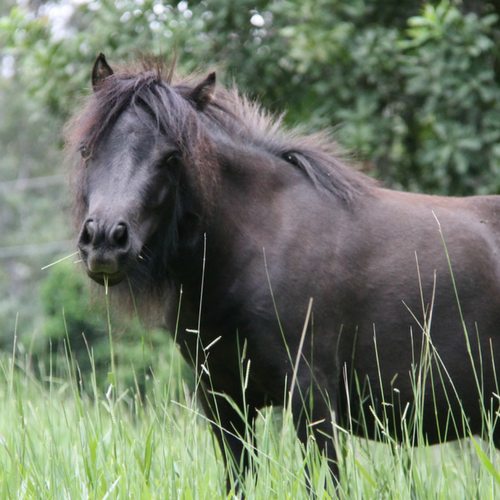 BORN: 10 September 2014
BREED: Mini Shetland Pony
HEIGHT: 9hh
GENDER: Mare
COLOUR: Brown
ARRIVED: January 2020 – gifted by the Blashki family
STRESS RESPONSE: Rarely reacts – she's unflappable!
PAIR BOND: Indy
LIKES: Everything and everyone
DISLIKES: Having injections, being touched on her underbelly
PERSONALITY
Sooty is hilarious. She's into EVERYTHING and is the most curious pony you'll ever meet. She needs to checkout the contents of your bag, your car, your pockets, and anything else you might have with you – take your eyes off her for second and she's in the office – literally! Born in 2014, she's also super-smart, loves clicker training and has many tricks in her repertoire – nodding, giving kisses, kicking a ball, spinning around and tapping her hooves on the ground. She's full of energy and cheekiness and just loves to hang out with the humans at every given opportunity. We all adore her.
HISTORY
Sooty was gifted to the sanctuary by the Blashki family early in 2020. She'd had a blessed life, being spotted in a dispersal sale with her mum, Mumma, as just a tiny foal. She's known nothing but kindness and love for her whole life. As a result, she's a very relaxed confident young lady who trusts us totally.
HEALTH ISSUES
None. Sooty is super-healthy and happy.