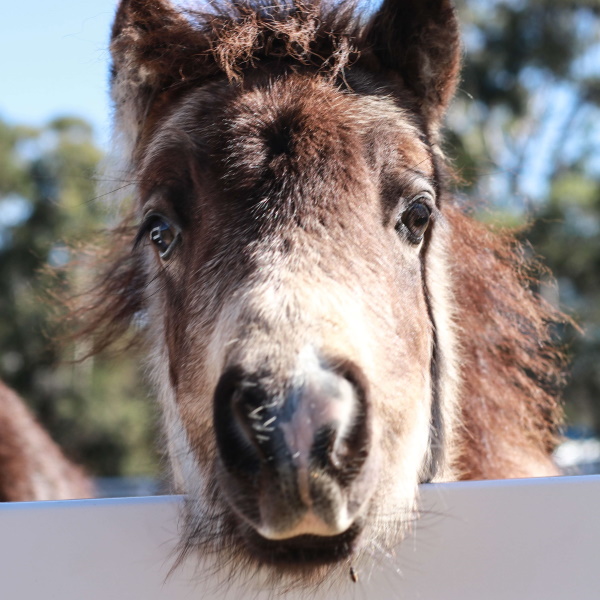 BORN: 28 February 2019
BREED: Mini Pony
HEIGHT: 8.2hh
GENDER: Gelding
COLOUR: Buckskin
ARRIVED: March 2019 – purchased from a 'dogger' sale
STRESS RESPONSE: Fight – this little man knows how to stand his ground
PAIR BOND: Shares the love – he's besties with Trixie, Phoenix and his mum, Lucy
LIKES: Scratches (particularly bottom scratches), naps in the sun and rolling in the mud
DISLIKES: Injections and being rushed
PERSONALITY
Rocket is ridiculously adorable, super cheeky and super fun. He's a mini pony born in 2019 and most of us just wish we had a 1/100th of his energy reserves!
HISTORY
Rocket was less than a week old when he arrived with his mum, Lucy. His first few days were far from ideal. Born unexpectedly while his mum was literally on the way to the dog food factory, little Rocket saved her life – they were worth more to the dogger through the Gympie sale yards than from the factory.
One of our Volunteers spotted them in the sale – both very distressed. Rocket was tiny, about the size of a Border Collie, laying cold and shivering in urine and manure on the concrete floor of their pen at the sales. It was a horrible sight and we knew we had to do everything we could to get them out of there and to the sanctuary as soon as we could.
HEALTH ISSUES
Multiple health issues and vet visits kept us super busy for the first few weeks he was with us but by the end of March he was happy, healthy and an absolute joy to be around. Originally called Harry, his name was soon changed due to the constant zoomies he did at record speed as soon as he was well. Rocket by nature, Rocket by name!
Rocket had some severe stifle lock issues for his first few years and had several procedures to try to help him. With the relief not lasting very long each time, he underwent a full medial patella ligament desmotomy in 2022 and has never looked back.