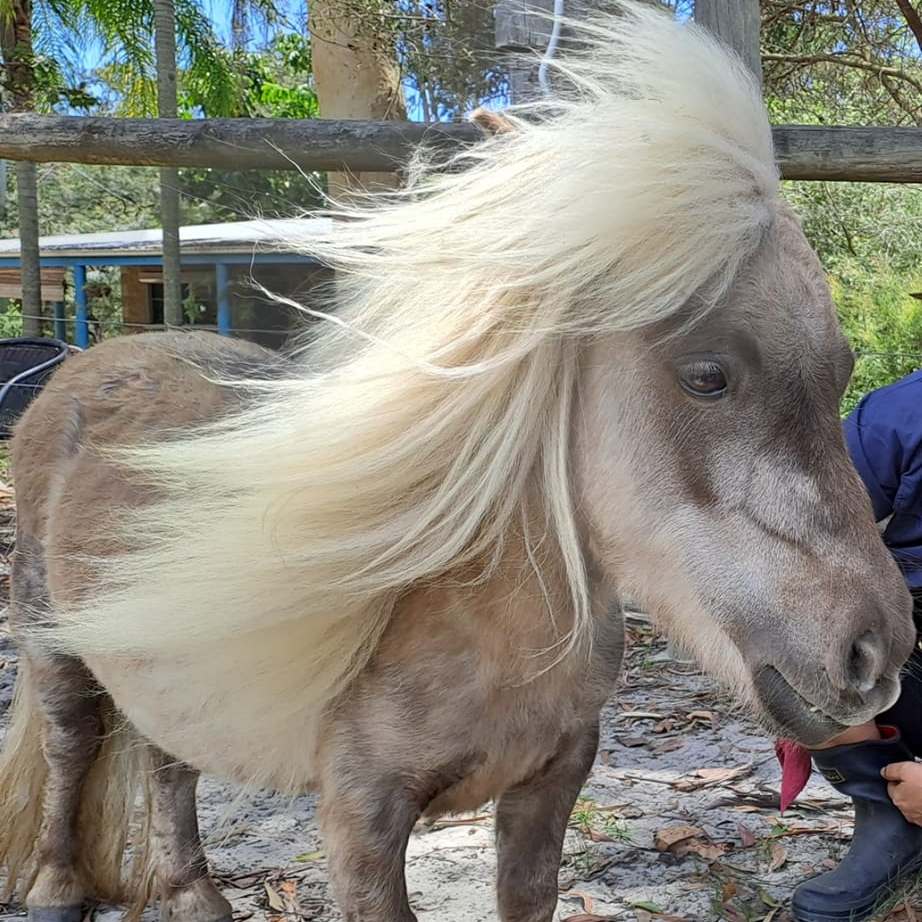 BORN: 10 October 2018
BREED: Mini Shetland
HEIGHT: 7hh
GENDER: Mare
COLOUR: Palomino
ARRIVED: December 2019 – from the RSPCA at Wacol
STRESS RESPONSE: Fight – she's a sassy young Miss!
PAIR BOND: Both Phoenix & Rocket
LIKES: Running with the herd, being independent, escaping, rolling in mud
DISLIKES: Being approached without using approach and retreat technique to ask her 'permission'. Prefers human company to human touch.
PERSONALITY
Trixie is an absolutely tiny pony – but only in stature – she is very self assured and takes no nonsense from the rest of the herd! She's like a little packet of dynamite, full of sass and attitude.
HISTORY
Trixie was part of a large herd of twenty ponies that were all seized by the RSPCA after being neglected. The breeder was deliberately breeding ponies with dwarfism. All of Trixie's herd-mates, including her mum, found new homes after they were with the RSPCA for a couple of months but Trixie didn't and was left alone.
Not having any grass at Wacol, the RSPCA had assumed she wouldn't be able to graze with her severe under-bite. They listed her as needing to be hand-fed for life which put everyone off. Turns out she can graze just fine!
Trixie was originally going to be called Pixie due to her tiny size, but after being able to escape through the tiniest of gaps in and under fences – and even our round yard panels, just 12 inches off the ground – she quickly became Tricky Trixie instead!
HEALTH ISSUES
Trixie has a number of skin conditions that need careful management in the wet season and humidity. Her dwarfism brings quite a few health issues including arthritis and her weight needs to very carefully managed to avoid to much stress on those tiny little legs – but she is happy and healthy and has a very cheeky side to her which is just adorable.