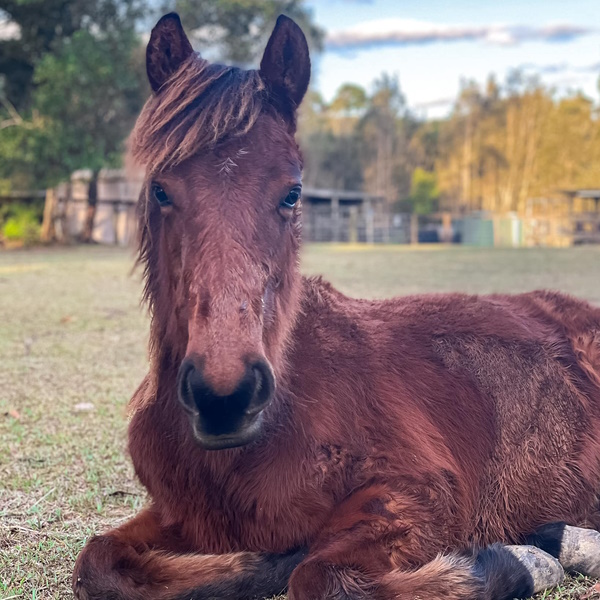 BORN: September 2021
BREED: Stock Horse
HEIGHT: Still Growing
GENDER: Gelding
COLOUR: Bay
ARRIVED: Dec 12, 2021
STRESS RESPONSE: Flight
LIKES: Sleeping in the sun, hugs, scratches, bananas
DISLIKES: Nothing really – he's a pretty chilled young man
PERSONALITY
A cheeky, loving and lovable youngster – full of energy and the bravest horse we have ever met!
HISTORY
Much of his history is unknown. He was sent to Laidley Horse Sales in Nov '21 – on his own and labelled as an 8-month-old Stock Horse. Woodford Horse Rescue kept him for 6 weeks before asking if we would take him.
A vet check on arrival to the sanctuary revealed that he was only 3-4 months old – making him only 1-2 months old when sent to the sales.
HEALTH ISSUES
Phoenix is developing slowly due to his tough start to life, inadequate early nutrition and not being de-wormed before coming to the sanctuary. This may result in some bone issues for him in later life. He is prone to respiratory issues and allergies – probably because his immune system was not supported as a foal.
In his first 12 months he battled through a huge burden of ascarid worms, gastric ulcers, anaemia, respiratory infections and general malaise. With great vet care, appropriate medication, a perfectly balanced diet (made possible by sanctuary sponsor FeedXL) and a crazy amount of love and care from our amazing volunteer team, Phoenix is now a happy and healthy young man bursting with energy and playfulness.